The desire and need of European operators to have an open, flexible and disaggregated telecommunications network, and not only in the link network but also in the backbone, is beginning to be a reality. A few days ago, Telefónica, BT and TIM reached collaboration agreements with Oracle to open their 5G backbones and clouds in native mode to multiple suppliers, and Telefónica has expanded it with another agreement with IBM. The aim is to quickly include innovative third-party services and offer them to its customers, following in the footsteps of the Finnish Telenor a few months ago. The old project of Telefónica of having an à la carte and tailor-made network, UNICA, thus takes shape.
In the last two years, there has been extensive talk about the opening of link networks, the last section of mobile networks, generically designated as Open RAN, when the fundamental and most strategic part of any telecommunications network is the Core, the core of the network, from where the operators supervise, manage and control the accesses and gateways of all the services they provide, of whatever type.
Of course, RANs and fiber or cable access are very important, because it is the way to reach customers. But whether the link network equipment is closed or open to multiple suppliers is a question of costs and of greater or lesser dependence on a handful of manufacturers (which in a few years will be reduced in practice to Ericsson and Nokia in Europe in what refers to 5G). In contrast, the control of the backbone and access to one or more intelligent clouds is much more strategic and, for large operators, implies their future survival.
Telefónica will deploy native cloud platforms in its multiple data centers thanks to the agreement with IBM, while with Oracle it will accelerate the adoption of the cloud and the development of new services
For years, Telefónica has had the project to create a telecommunications network on demand, choosing the hardware and software suppliers that, depending on the circumstance and the service strategy, best suit it. It is UNICA, an initiative in permanent evolution that the operator has presented in multiple forums, especially at the MWC, and in the form of various documents. The goal is always to have the maximum of virtualized functions and applications, a term widely used but with profound implications; among them, greater independence from the usual suppliers.
It is evident that creating a tailor-made and à la carte network, with the best providers in terms of price and performance, is in a certain way unfeasible, if only due to technological evolution itself and the need to reconcile the future infrastructure with the existing one. But, at the same time, the network of any large or medium-sized operator has become so complex (and it will be much more so) that it is not possible to be permanently linked to a few suppliers either. Open and configurable systems, more than a wish, are already a strategic necessity when it comes to the next generation SA 5G and 6G networks, which are just around the corner in the timescale of telecommunications infrastructures.
In recent months, both Nokia and Ericsson have announced various agreements with large operators to bring them the entire supervision system of their networks and the integration of the different present and future services that will be incorporated from different providers. The scope of these agreements made public is imprecise, either due to the complexity of the issue, its necessary evolution depending on the circumstances or because it was already convenient for them to give the impression that they would orchestrate almost alone the network of the main European operators, now that Huawei is out of place in Europe. Obviously, Ericsson and Nokia would follow the guidelines and needs of their customers, the operators, but with some dependence.
Converged network solutions
Just over a year ago, the consulting firm Omdia, sponsored by Oracle, published a report that highlighted the need for operators to have solutions based on native information clouds and converged network solutions from multiple vendors, to ensure an adequate return. of investment when migrating from 4G networks to NSA 5G and, above all, to SA 5G fully integrated.

Source: Omdia. Converged Policy in 5G report, August 2020.
"A native cloud and a policy of integrated and independent solutions in these [network] architectures will allow to have a unified vision to distribute resources in all the access technologies", predicted the report, at the same time that it would also allow to integrate more easily the solutions of revenue management and billing. However, "the most immediate benefit is that operators can deliver services to businesses quickly and monetize them on 5G networks as soon as possible," he concluded.
The consulting firm Analysys Mason has also published a more recent report, also sponsored by Oracle, on the importance of building the best telecommunications network based on modular and unbundled components, so that operators can offer the most interesting network functions for their customers and meet your business goals. "A 5G network architecture based on services opens a new chapter in the disaggregation of networks and gives greater possibilities of choice to operators and customers, by not having to depend on a single provider in a monolithic system."
Oracle has also reached agreements with BT and TIM, suggesting that telecom operators, at least the European ones, are determined to collaborate with multiple providers on their backbone and in the cloud.
The use of modern design software facilitates the implementation of a more competitive 5G network core, it was explained, as illustrated by the following Oracle chart included in the Analysis Mason report: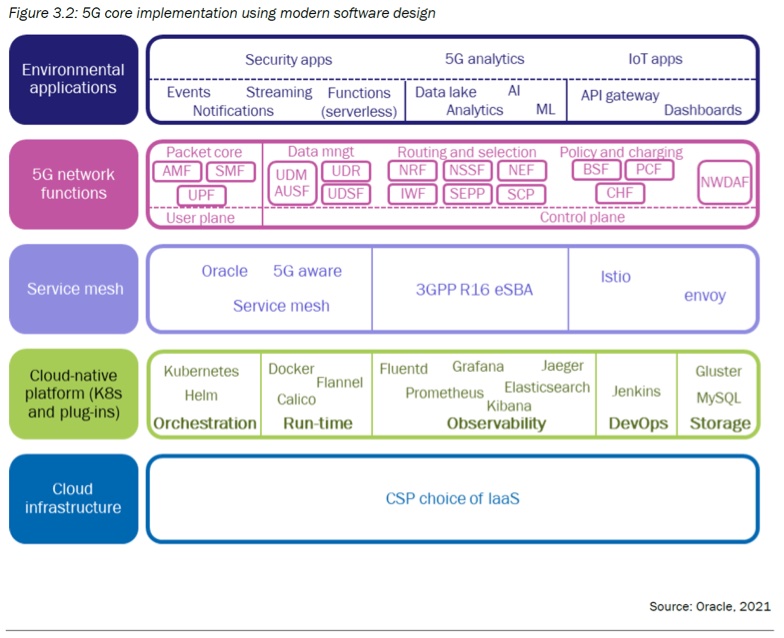 The use of applications and network functions based on native 5G clouds, with the composition of different microservices, also contribute to the operators being competitive, it was abundant in the following graph: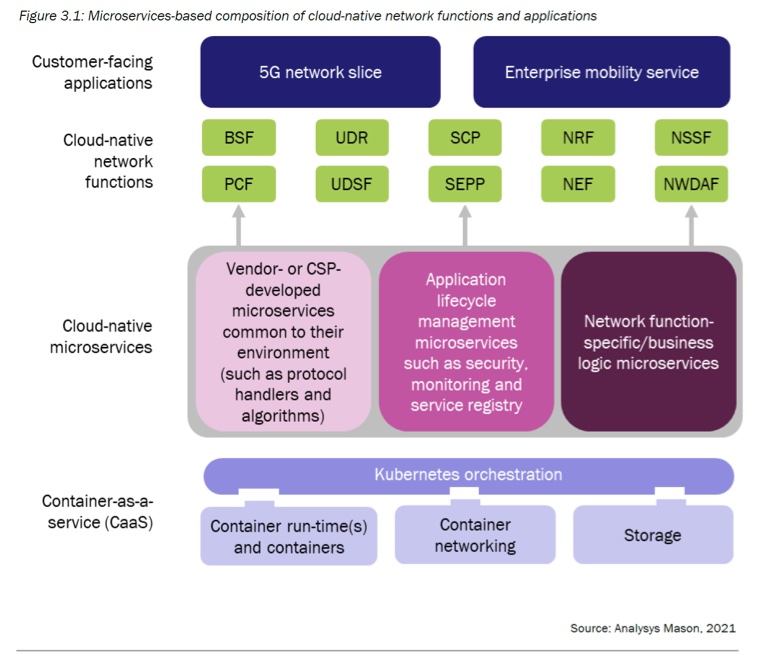 Oracle and IBM agreements with Telefónica
The evolution towards a more open and disaggregated network infrastructure is now beginning to take shape. IBM and Oracle, two of the most important and veteran companies in the information and communications technology sector, although their products are not particularly well known by the general public, because they are aimed at large companies and, at least until now, not strictly telecommunications companies, have just made public, within a few days of each other, important collaboration agreements with Telefónica de España, Telecom Italia (TIM) and British Telecom (BT) in relation to the opening of the core (Core) of the 5G network.
The most far-reaching agreement appears to be that of Telefónica, because both Oracle and IBM are involved separately, with the help of several of their respective partners. Telefónica has reached a collaboration agreement with IBM and its partners (Red Hat OpenShift, the recent IBM subsidiary, and Juniper's Apstra) to deploy what the Spanish operator considers to be "its first 5G network core platform based on native cloud, which in turn will be based on its UNICA Next telecommunications cloud architecture ".
It is about deploying native cloud platforms in multiple data centers that Telefónica has at a centralized, regional and distributed level in Spain, as indicated by the operator in a statement. It is a multi-year strategic agreement, in which the IBM Global Telco Solutions Lab, located in Texas, will be connected with Telefónica's Network Cloud Lab in Madrid, and will help accelerate the evolution of UNICA Next. Juniper, for its part, is committed to bringing the open hybrid cloud architecture to Telefónica customers around the world, as the statement added. "The UNICA Next data centers are expected to be implemented starting this October, with a scalable architecture designed to address ETSI standards and other relevant industry standards," says Telefónica.
Telefónica's joint communication with IBM is dated September 23. Four days later, Telefónica announced a collaboration agreement with Oracle, also multi-year, to accelerate the adoption of the cloud and the development of new telecommunications services for consumers and companies, as both companies explain in their statement.
Telefónica, it is specified, "will migrate most of its Oracle database systems to Oracle Exadata Cloud @ Customer, building a cloud platform dedicated to supporting the provisioning and delivery of new services, as well as operating and commercial systems. critical mission of Telefónica, including its platforms and applications BSS and OSS, business intelligence systems, CRM, billing and revenue management ".
This collaboration between Telefónica and Oracle is part of a multi-year initiative by the Spanish operator "to consolidate the technological infrastructure that supports its communications network on a shared platform based on open standards designed to support its growing portfolio of digital services, including new services around the IoT and 5G, and services offered jointly with independent software vendors (ISVs) and partners ", adds the joint statement.
Oracle also partners with TIM and BT
BT and TIM, the dominant carriers in the UK and Italy, respectively, have also very recently reached collaboration agreements with Oracle regarding the core of their 5G networks. The BT group has selected Oracle's native cloud-based converged communications management system to optimize its network resources and be able to bring new 5G services to the market.
With Oracle's solution, the joint statement clarifies, BT will be able to more quickly test and launch 5G services, such as streaming video or virtual reality in real time, on the entire mobile network of EE, BT's mobile brand. Oracle's solution enables software engineers to design, test and deploy new services on both 4G and 5G mobile networks in a much more agile way, in minutes instead of months. It also allows, ensures the communication, flexibility and optimization of the network and the resources that BT has to introduce services based on IoT to business customers and consumers.
Last Friday, Oracle reached a collaboration agreement with Telecom Italia (TIM) and Noovle, the cloud company of the TIM group created last January, to offer a wide range of cloud-based services in Italy. According to the statement, the TIM group will use Oracle's advanced cloud infrastructure technologies to modernize TIM's offering in Italy and establish a benchmark in the Italian market through Noovle. The three companies will pool their experience and assets to develop and manage multicloud architecture services for Italian companies.
Clear trend towards opening up the backbone network
The trend of opening up cloud infrastructures for operators, especially Europeans, and their backbones to use multiple providers depending on the circumstances is an increasingly clear need. In reality, operators have always used the technology of multiple providers, but it was mainly in the part of the final service to customers, more typical of information technologies than telecommunications.
These latter services were provided almost exclusively by the three major providers, Huawei, Ericsson and Nokia, at the European level. The US veto on Huawei, which the UK has strictly followed although it has allowed until 2027 for US operators to "clean up" their network of Huawei products, has totally disrupted the European telecommunications supply landscape .
Several European governments and the European Commission insist on the need for 5G networks to be very secure and doubts are beginning to be made that installing Huawei's networks will be the most convenient in the second half of this decade and the next, although it continues to be recognized that Technologically, they are up to par or exceed those of Nokia and Ericsson and, furthermore, at a lower cost and covering all needs.
Apart from the controversial issue of Huawei and the security of its networks, what is certain is that global telecommunications networks are increasingly complex and the needs more specific according to the country, the type of clients it has and the strategies of each one of them. operators, more than a hundred in Europe. The unstoppable technological evolution causes the need to have multiple suppliers according to each circumstance and the suppliers, in turn, also need to reach agreements with other suppliers, because not all are for sale, among other reasons.
The agreements now reached by IBM and Oracle, on the other hand, are not the only ones and commitments of this nature are likely to continue. In fact, last April, the Finnish operator Telenor began to test the opening of its telecommunications platform with several different providers. Patrik Waldemar, head of technology at Telenor Research, said in his day that he had started to roll out a 5G network core environment with several neutral providers. One of the binders of this open platform was that of Red Hat Openshift, now from IBM, which is powered by Kubernetes container technology, which also appears to now be used by European operators.