Telefónica has reached an agreement with Japan's NEC to carry out pre-commercial tests of open Open RAN networks in Spain, Germany, the United Kingdom and Brazil, while other operators, such as Italy's TIM, say they will do more tests with open networks. Telefónica's announcement was made on September 14, two weeks after Nokia and Ericsson left the O-RAN Alliance due to US interference and the same day that the Alliance got Nokia to return, but not Ericsson, after giving legal guarantees that it cannot be prosecuted for its collaboration with Chinese companies, even if they are blacklisted in the United States.
The decision of Nokia and Ericsson to abandon their collaboration with other companies within the framework of the O-RAN Alliance, made public at the end of August, was a serious blow for the Alliance, because they are two key players in the development of networks of open and unbundled linkages, although it would mean creating strong competition if the initiative for the two companies were to materialize soon.
For its part, the decision of the United States Government to blacklist, the Entity List, three Chinese companies that are members of the Alliance has made very clear the serious structural problems of the project. The O-RAN Alliance has about 237 members, among mobile phone operators and telecommunications equipment manufacturers, of which 44 are Chinese companies (now perhaps 41, if the three vetoed by the United States Government are eventually expelled) and one of them, China Mobile, is a founding member of the Alliance, which was created in 2018 together with Deutsche Telekom, NTT DoCoMo, Orange and AT&T.
O-RAN Alliance has made changes to the participation documents and procedures so that its members are not affected by the US Government, which have allowed Nokia to return
The O-RAN Alliance has been working for years, with the help of its members, in the development of the technical requirements that should allow the manufacture of open, unbundled and fully compatible link networks with the proprietary link networks (RAN) that they build. the large telecommunications equipment manufacturers. The top three, Huawei, Ericsson and Nokia, account for more than 70% of the entire global telecommunications network equipment market, while a few more, mainly ZTE, Samsung, NTT DoCoMo, NEC, Fujitsu and Cisco, account for the rest. .
All link networks, such as transport and trunk networks, that support the current global mobile phone data traffic are built under the global standards approved by the 3GPP, the only international body that has been able to create 3G, 4G, 5G and now it has 6G running, and it depends on the ITU (International Telecommunications Union), an international organization created more than a century and a half ago, since the telegraph and later the telephone were invented.
The O-RAN Alliance cannot create global standards such as 3GPP, but develops or defines what are called technical specifications, that is, standards that must ensure, when fully established and verified for correct operation, that the equipment manufactured is fully compliant with 3GPP standards and naturally not in conflict with current 4G and 5G networks. As the components of OpenRAN networks are to be open, that is, their different components are interchangeable regardless of the manufacturer that has built them, the initiative is extraordinarily complex.
As if that were not enough, as in the end the OpenRAN specifications will be subject to the use of numerous patents, they must have the approval of their rightful owners. The 3GPP does not have this problem, because all manufacturers are part of the body and assign the use of their patents (with the corresponding payment of rights) in the approved standards, standards that patent holders have contributed to their creation and have agreed upon. its inclusion and distribution in the different generations of mobile telephony.
Specifications above 3GPP standards
As the O-RAN Alliance specifications are built on top of the global 3GPP standards, they must have the explicit approval of the patent owners for their use. The vast majority of the members of the O-RAN Alliance are also members of the 3GPP, with one very important exception: Huawei, the leading manufacturer of networking equipment and one of the largest (if not the leading) mobile phone patent holders. .
Huawei is not part of the O-RAN Alliance and, according to specialists in the field, it has no obligation to assign its use, regardless of the price of payment of rights that may eventually be reached. It is an ace up its sleeve that it seems that Huawei has and that can make the entire project of the O-RAN Alliance fail, even if the specifications are fully resolved and they work perfectly with the 3GPP standards.
Of course, operators interested in installing open networks could stop buying equipment from Huawei to suit their interests, but this is already being done by operators in North America, the United Kingdom and Australia by order of the United States Government and also the Most of the operators of the European Union (although the majority not explicitly) by the American pressure.
Telefónica has agreed with NEC to do pre-commercial testing of Open RAN in Telefónica's access networks in Spain, Germany, United Kingdom and Brazil and to have about 800 commercial sites as of 2022
It should be borne in mind that the 5G networks now installed in China represent more than 70% of the world total and, over the years, this percentage will decrease but it may still represent close to half the world. 5G networks will therefore be, in the foreseeable future, mostly Chinese and it is totally unthinkable that Chinese operators will veto their compatriot Huawei and not pass orders to him, as well as that the countries around them do. One way or another, therefore, the O-RAN Alliance must reach an agreement with Huawei for the assignment of its patents on its specifications, with the explicit consent of the United States, if it wants its specifications to prosper.

Architecture and specifications of the O-RAN Alliance, in an outline of its official site (o-ran.org)
Operators can continue to test with open network specifications as before, precisely because they are tests, but it is more doubtful that they can be implemented in fully operational networks with the current legal status of OpenRAN developments. No major operator, predictably, would risk including OpenRAN in high-traffic networks until they are fully sure that they work perfectly and are fully compatible with the ones they already have installed. And this without taking into account the lawsuits that could fall on operators and manufacturers for the inappropriate use of patents and intellectual property rights.
Another possibility is that some link network manufacturers develop relatively open Open RANs, that is, they do not fully conform to the O-RAN Alliance specifications, when finalized, but are only more open than Nokia's proprietary networks, Ericsson or Huawei and include some components that can be unbundled and purchased from other manufacturers. For operators, however, this situation could create many conflicts, because they would have to do a lot of tests to verify that there are no compatibility conflicts with their networks. The fact that there are various names for open link networks, such as O-RAN, OpenRAN, and Open RAN does not bode well.
Nokia returns to O-RAN Alliance
On September 14, two weeks after taking a "break", Nokia returned to be part of the O-RAN Alliance and to contribute technically with the development of its specifications, after the Alliance offered full legal guarantees that its task complies with and will be in accordance with United States law.
Tommi Uitto, president of Nokia's mobile networks division, assured in his blog that his company "had had to take a break in its technical activity with the Alliance while important legal issues were resolved" and reiterated that "Nokia is fully committed to O-RAN Alliance and believe in its potential ".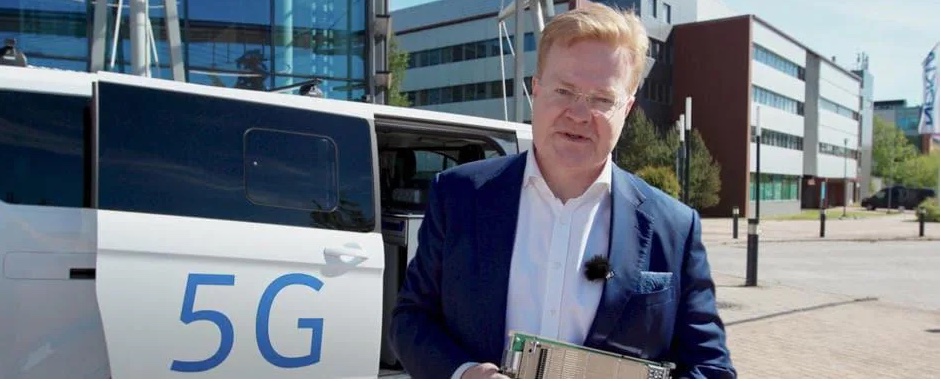 The O-RAN Alliance had acknowledged the day before, on September 13, in a statement the doubts that some of its members had had in recent weeks regarding whether their participation could be subject to United States export regulations and, therefore , the O-RAN Alliance Council had approved changes in the participation documents and procedures in the Alliance. The O-RAN Alliance was optimistic that these changes would resolve doubts and facilitate the Alliance's mission to develop "an open, intelligent, virtualized and fully interoperable RAN".
In his blog, Uitto reaffirmed his company's commitment to both [the specifications] O-RAN and the O-RAN Alliance and assured that Nokia had been the first major manufacturer to be part of them and "will continue to be the largest contributor. important part of the technical work of the Alliance ". The O-RAN specifications, recognized however the head of Nokia's mobile networks division, "are still evolving and there are technical challenges to be solved" and, "of course, it will take time for the ecosystem to mature."
For now, Ericsson has made no mention of these changes made by the O-RAN Alliance Board, nor has it resumed the "hiatus" that was imposed at the end of August, unlike Nokia. Those who have renewed their strong commitment to the Alliance are the large mobile phone operators and, especially, Telefónica. On September 14, coincidence or not, while Nokia announced its return to the O-RAN Alliance, the Spanish operator announced an agreement with NEC, the veteran Japanese telecommunications equipment manufacturer, to carry out pre-commercial tests Open RAN.
Telefónica will test Open RAN in four markets
The announcement between Telefónica de España and NEC establishes an agreement to carry out pre-commercial tests of Open RAN, the open radio access network, in Telefónica's four main markets: Spain, Germany, United Kingdom and Brazil, as indicated In a statement, the Spanish operator Telefónica considers that "these pilots are a key milestone towards the massive deployment of Open RAN and that automated use cases will be developed jointly, driven by artificial intelligence," as the head of the statement says.
Telefónica announced a few months ago its goal of "achieving 50% growth in the radio network based on Open RAN by 2025," as Enrique Blanco, the operator's chief technology officer, expressed at the time, and which he now reiterates. Following the successful trials conducted by Telefónica in Germany and the UK, NEC will act as lead systems integrator to launch and test multi-vendor-based Open RAN solutions in the top four markets for Telefónica, adds the statement, with the objective "to reach a total of at least 800 sites for commercial use as of 2022."
Telefónica and NEC will also collaborate in the validation and implementation of cutting-edge Open RAN technologies, as well as in various use cases, in the recently created Telefónica Technology and Automation Laboratory in Madrid. NEC's Open RAN global center of excellence in the UK will lead the integration and validation of the multi-vendor ecosystem and the joint development of use cases with Telefónica, drawing on its accumulated experience, the statement said.
For Enrique Blanco, "open networks are undoubtedly the key to drive the evolution of the network in the 5G era and to maintain and fulfill our mission of offering quality experiences to our consumers and business customers," in a statement in conjunction with Shigeru Okuya, Senior Vice President of NEC. Telefónica's chief technology officer is a member of the O-RAN Alliance board of directors.
In mid-September, Dennis Hoffman, senior vice president and general manager of the telecommunications business at Dell Technologies, announced that it was supplying Open RAN products to three major European carriers, a fourth imminent and a fifth was expected shortly. The three confirmed operators are Vodafone, Deutsche Telekom and Orange, although only Vodafone has confirmed that it will deploy an Open RAN network with Dell products.
Dell's network for Vodafone will run on products from Samsung, NEC and Wind River, and Mavenir and Dell are known to be working together on a pilot Open RAN network for Deutsche Telekom, with Supermicro supplying the servers. At the same time, Parallel Wireless, an American company specializing in software for open networks, has just announced the upcoming opening of four research and development centers in the United States, Israel, India and the United Kingdom, to develop both software and hardware for networks. open links.
For its part, Telecom Italia (TIM) said it wanted to test Open RAN on its network in the city of Matera, in southern Italy, and establish an Open RAN 5G Stand Alone connection at its innovation lab in Turin. Dell, as far as it is known, will work on this case alongside Mavenir, MTI, Intel and VMWare, Dell's software subsidiary that is expected to be independent.
Open network initiatives, even in the European Union, are constantly growing, with US companies at the forefront, but also Japanese, such as NEC and NTT DoCoMo. Most of these initiatives are pilot projects, but it should be noted that the Japanese operator Rakuten has already launched an open 4G and 5G network commercially in Japan with the help of multiple providers.
It is clear that in recent weeks there has been a great push to give link networks that are assumed to be open, intelligent, virtualized and fully interoperable, as claimed by the O-RAN Alliance. That they are also disaggregated, in the sense that the link networks could be built with standard components regardless of the manufacturer, as was said at the beginning, now it is no longer said.