Ericsson has reduced the weight of one of its 5G radio units by 40%, making it more efficient and simplifying rooftop installation. In addition, he has updated his business vision and company brand. Meanwhile, Nokia has announced a new generation of processors for its network equipment, which allows a very substantial reduction in power consumption and increased capacity. Huawei is also not far behind and is going to reinvent itself, with a strong investment in the development of network software, intellectual property and cloud computing. The two Nordic companies and the Chinese Huawei thus intend to continue dominating the global market for telecommunications networks and face increasing competition and new market trends.
5G technology is not only promoting new uses of telecommunications and transforming the construction of link, transport and trunk networks, but it is also shaping a very different landscape of the industry and its value chain, both in fixed networks broadband as in mobile telephony. The trend towards open systems, although it is presumed to be slow, and the growing role of large technology companies under the protection of the Internet, data centers and artificial intelligence, puts the dominant operators and the three traditional equipment suppliers before a much more competitive and complex scenario.
The two Nordic companies have unveiled, within a few days of each other, an important update of their network equipment, which should make operators more competitive, being more powerful, flexible and more energy efficient, and incidentally themselves . In the case of Ericsson, it has managed to reduce the weight of its massive 5G MIMO units again, from 17 to 12 kilograms in its configuration of 32 transmitters and 32 receivers (the so-called 32T32R), which is widely used.
Ericsson has reduced the weight and size of one of its 5G mobile network units, while Nokia has developed a more efficient network processor with intrinsic security systems.
This lower weight is very significant, because it must be taken into account that the initial 5G units weighed up to 60 kilograms and consumed a huge amount of electricity. Now, Ericsson's AIR 3268 is considered by the Swedish company as the smallest and lightest massive 5G MIMO radio unit in the industry, weighing 23 liters and weighing 12 kilograms. It offers 200 W of power output, with 32 transceivers and passive cooling system.
The British operator BT, which has contributed to its development and has already begun to install it, considers the size and reduced weight of the unit to be very important, although these characteristics had not been taken into account until now. Being relatively light and not bulky, the units can be transported with the arms and no cranes or special devices are needed for their installation, which are difficult to use on roofs and roofs. As seen in the top photo, an operator (in this case a woman in the top photo provided to make the benefits more visible) can carry the unit.
The lower weight and bulk also simplifies the installation on the mast, as it does not require additional reinforcements. This is important because radio masts and antennas are increasingly busy with new generations of mobile telephony; They want to turn off and disassemble the old 2G and 3G antennas, but it is necessarily a slow process and it will take time, because many consumers still use the old connections.
The AIR 3268 consumes 10% less power than the previous generation, with 128 antennas, another important aspect because operators can maximize the range and orientation of radio signals. Last January, when Ericsson announced a lighter 64T64R unit, it took Huawei just a day to announce its own unit with the same characteristics and a kilogram less. This time, several days have passed since Ericsson announced it and Huawei has not replicated it.
Nokia's Enhanced Network Processor
Nokia, meanwhile, has just upgraded its Internet networking processor, the FP5, which achieves a 75% reduction in power consumption and doubles the capacity of the previous FP4, introduced in 2017 and running at 2.4 terabits per second. . The FP5 consumes 0.1 W / GB compared to 0.4 W / GB of the FP4, says Heidi Adams, commercial manager of optical and IP networks at the Finnish company, and is the first from Nokia to support 800 GB Ethernet interfaces. / s.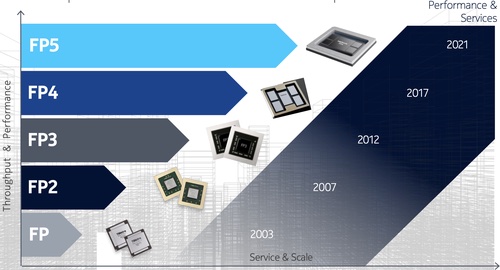 As seen in the graph above, Nokia updates its network processor every four to five years, with increasing features each time. In the FP5, it has been achieved with a greater integration of the transistors, now with design rules of seven nanometers compared to 16 nanometers of the previous generation. Also, it has been possible to encapsulate more circuits in a single chip, with the consequent performance improvement.
The Finnish company has also incorporated additional network protection systems, thanks in part to the purchase of Deepfield, an analytics company, in 2017, which it obviously failed to integrate into the fourth generation FP4. Nokia plans to carry out the first real FP5 tests at the end of the year and start distributing networks with this new platform from the first half of next year. It will not be necessary to replace the supports and cooling systems, thus making the task easier for integrators.
Huawei is confident that it will continue to face the sanctions imposed by the United States and for this reason it is investing heavily in software, in cloud computing and in strengthening its intellectual property patents
Orange and NTT DoCoMo have been the first operators to communicate that they will use this processor. Adams emphasizes that, apart from improved performance, the importance of the processor is seen when all services are at full performance and the integration of network security functions. The consultancy Dell'Oro assures, for its part, that the FP5 will not have an immediate effect on Nokia's market position, but provides a favorable roadmap, following in the footsteps of the FP4.
Interestingly, when Nokia introduced the FP4 four years ago, it highlighted that the bespoke chip was very appropriate for the internet giants, but the FP5 presentation barely mentioned this fact and it has also been much more discreet. Probably the reason is that Nokia has had many problems in the last two years as a result of its decision to manufacture the chips for 5G radio units with programmable logic networks, instead of making custom chips, which caused it to lose market share. market, as the equipment is comparatively more expensive to manufacture compared to the competition. At the time, Nokia thought that 5G would be launched later (it had not yet been decided to advance it with the 5G NSA (Non-Stand Alone) – a miscalculation that even cost the previous CEO his job.
Nokia's optical and IP networking strategy has been far more successful than that of mobile devices. In the first half of this year, Nokia's network infrastructure division had a turnover of 3.5 billion euros, 24% in constant terms. Not surprisingly, Nokia hopes to repeat the success with the FP5. Some observers, however, are not quite convinced by networks that run on fully custom-built chips instead of using, even in part, standard components. The discussion is in full swing with mobile networks and the interest in making open and disaggregated systems. It would be dramatic if Nokia were wrong again, this time not with mobile networks but with network infrastructure.
Ericsson's New Approach and Vision
The world of telecommunications is undergoing rapid changes that are very difficult to predict, so nothing can be taken for granted. In order to adapt in the best possible way to these changes, Ericsson has renewed its mission, with an eye to the great possibilities that, in its opinion, allow connectivity without limits. It was on September 27 when Ericsson announced the new purpose and vision. of the company. Its purpose is "to create connections that make the unimaginable possible" and with the vision of "improving lives, redefining business and leading a sustainable future, in a world with unlimited connectivity."
For Börje Ekholm, President and CEO of Ericsson, "the new purpose and vision are based on the values ​​of the company: respect, professionalism, perseverance and integrity." And he adds that they strive to promote a culture of integrity and incorporate their values ​​into the way they work. "We continue to work in this line and we are committed to improving responsibility, trust and respect in our people, clients and other interested parties, at the same time that we guarantee the sustainable success of the company in the future", Ekholm says in his statement. .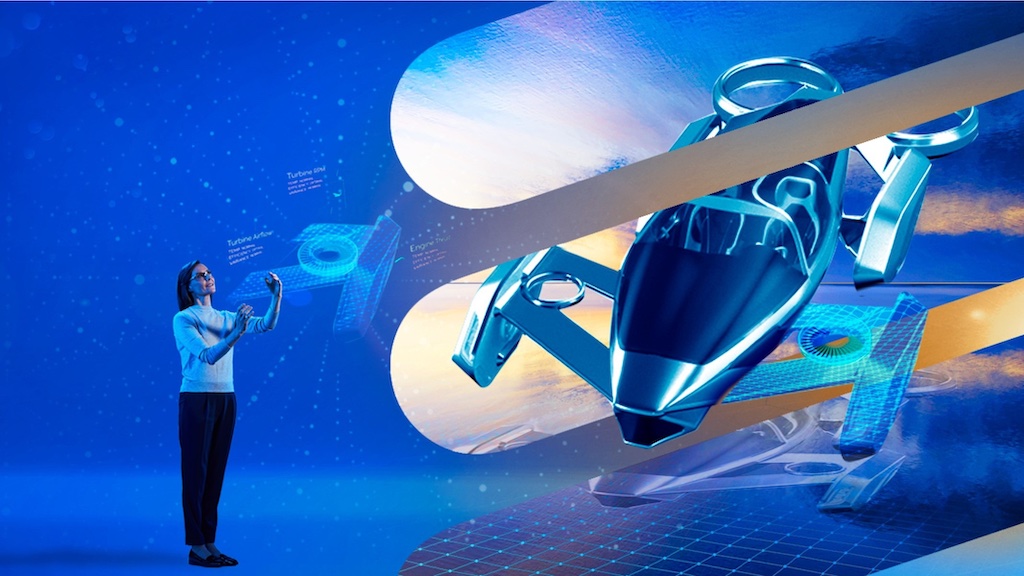 Huawei also wants to reinvent itself, now that it has managed to free its chief financial officer, Meng Wanzhou, who for almost three years has been held in Canada by a lawsuit filed by the United States government. Meng Wanzhou, daughter of Ren Zhengfei, founder and CEO of Huawei and who is considered the heir to the company, proclaimed upon returning to China that "all the frustration and difficulties, gratitude and emotion, perseverance and responsibility will be transformed into an opportunity for move forward, with courage and determination ".
The impact that the US Administration's ban on the use of equipment from the Chinese company in the federal government has had on Huawei, that US companies cannot sell anything to it without an export license or that any type of designed semiconductor can be supplied or manufactured by American technology or equipment has been brutal. In the first half of this year, Huawei's turnover has fallen by 30% compared to the same period of the previous year.
Huawei invests in software and intellectual property
Huawei expects the restrictions imposed by the United States to last for a long time, even in the event that the Chinese and American governments somehow resolve their trade disputes. Just yesterday, the US Foreign Trade Representative, Katherine Tai, of Chinese descent, outlined her government's new trade policy with the Chinese and said she hopes to speak "frankly" with Chinese Vice Premier Liu He by phone in the United States. next days. There is, at the moment, no date to start conversations at a formal level.
Initially, Tai was expected to suggest that the United States was willing to take a softer position in its trade negotiations with China in the future, but most observers who followed the conference are skeptical that this is possible in the short term, based on of what they heard. For Tai, China is not fulfilling the trade commitments that she agreed to with President Donald Trump, which China vehemently denies, and now no major change in trade relations between the two countries is anticipated.
Huawei is investing heavily in research and development to try to get rid of US sanctions. It is about developing telecommunications network software more intensively, so as not to use so many chips, and turning to artificial intelligence and cloud computing.
Another of Huawei's priorities is to strengthen its portfolio of essential patents, both in 5G and 6G mobile telephony as well as in artificial intelligence and cloud computing patents. Huawei now has an important portfolio of patents of all kinds, but is ready to strengthen it. In addition, Huawei is already very strong in the IoT market and business solutions of all kinds and is decisively entering the sector of connected and electric cars.
Investing in the development of the next generation of mobile telephony, the 6G, is also a priority for Huawei, although its current rotating president, Eric Xu, said a couple of weeks ago, at the Huawei Connect technology conference, that too many are being created. expectations in the new generation of mobile telephony and that they run the risk of becoming excessively politicized.
Xu acknowledged that his company has lost a lot of revenue with its mobile phone division – its subsidiary Honor has been sold to a group of companies controlled by the Chinese government, in hopes of circumventing sanctions – and it will take many years to recover. However, he made it clear that his company has already gotten used to US sanctions and no matter how many restrictions are added, because he believes that his company is prepared to deal with them.
Huawei has the support of the three mobile telephone operators in its country, to which it supplies the vast majority of the equipment they need, apart from other nearby countries, and which allows it to maintain a large part of its traditional billing in networks of mobile telephony, especially in 5G. It is also confident in the digital transformation resulting from China's economic recovery and the boost of the economy based on lower carbon consumption.
The most promising business, Xu said, is the one promoted by Huawei's business division. It already represents a turnover of 100 billion yuan, about 15.5 billion dollars, with an increase of 23% compared to last year thanks to the sales of local network equipment, cloud and smart solutions. Although it is still a small part of Huawei, because it accounts for 11% of the company's total turnover, it is a very clear growth path, said the manager.
The big three telecommunications equipment manufacturers, Huawei, Ericsson and Nokia, which control about 70% of global turnover with their fundamentally closed solutions, are preparing, each in their own way, to face the stiff competition that will arise. looming in the sector, either due to the transformation of networks due to the Internet, cloud servers and artificial intelligence tasks, as well as the trend towards more open systems and more based on software and less on semiconductors and physical equipment.
The telecommunications market has always been in constant transformation since its inception in telegraphy and later in telephony, so it does not come back to its equipment manufacturers. As Börje Ekholm recalled when giving an account of Ericsson's new vision, "for almost 150 years our technology has transformed almost every sector of society and the networks we build already connect billions of people and will soon connect almost anything we can. imagine us ".