Microsoft has just announced the availability of its global data traffic routing, processing and transport services to mobile telecommunications operators, with its newly created Azure for Operators infrastructure. Meanwhile, Google also woos operators with its Distributed Cloud Edge, which brings the core 5G and Edge functions of mobile operators closer to business users and consumers and has a mobile 5G network with a faster response. Thus, the interest of large technology companies to penetrate into advanced telecommunications services at the hands of the operators and participate in the business grows.
The leadership of Amazon Web Services (AWS) in the provision of advanced cloud computing services is indisputable, which has caused a complete disruption of global telecommunications services, in collaboration with operators, service intermediaries or directly to users. end. Infrastructures in the cloud, from Microsoft with Azure or Google with Google Cloud, although others are lagging behind, have ended up offering a very powerful and complete infrastructure of cloud services, which operators also take advantage of due to the advantages they offer .
Microsoft announced more than a year ago, and has been operational since the beginning of this year, an expansion of its Azure infrastructure, called Azure for Operators, which is a cloud specifically designed for telecommunications network operators and that covers their characteristic requirements of reliability, security and speed of communications.
Microsoft has created, with Azure for Operators, special mechanisms to route 5G traffic within a global WAN network of the company and without the need, if you want very low latency "if it does not go through the Internet
Azure for Operators is, as Microsoft explains in the graphic below, a cloud optimized for telecommunications operators that has vast computing resources, which can be accessed from any point on the network and is capable of storing huge volumes of information, providing thus operational efficiencies to any industry, with more than 170 points of presence and 160,000 miles (258,000 kilometers) of fiber optic cabling. It is an intelligent cloud that brings together the physical and virtual world.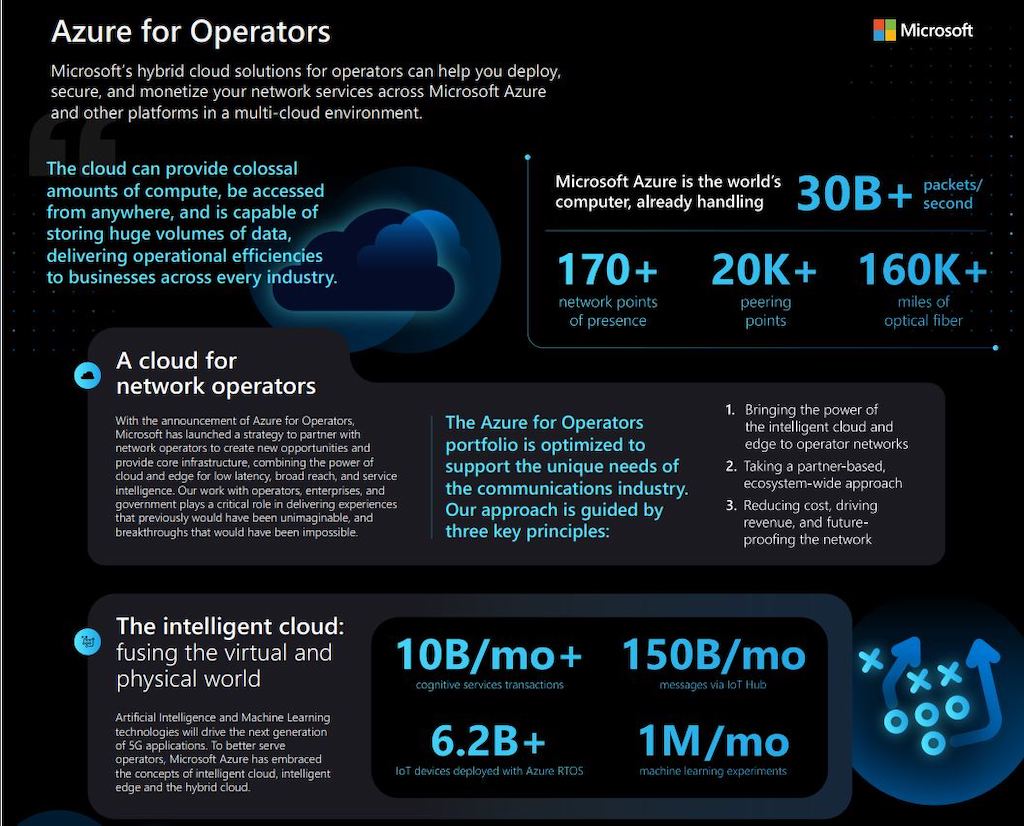 Microsoft already scored a good goal at the end of June, when it announced that it had managed to get the US operator AT&T to migrate part of its 5G mobile network to the Azure for Operators cloud. The contract has a lot of merit, because AT&T is an operator that in the last six years has invested heavily in the development of its own software-defined networks (SDN), in cloud and edge computing (Edge) and in the virtualization of network functions, demonstrating that you gain in agility, reduce costs and improve the performance of critical workloads.
AT & T's contracting with Azure for Operators is by no means exclusive, because the operator will continue to use mainly its own resources, as well as the clouds of other companies, such as Google, but it represents a boost for Microsoft's initiative to create a cloud adjusted to the operators' own requirements and initially unveiled in September 2020, shortly after the purchase of Affirmed Networks and Metaswitch, two essential companies to complete the future offering of Azure for Operators, as Microsoft itself made clear in June of 2020.
5G with lower latency thanks to Azure
Victor Bahl, CTO at Azure for Operators, has repeatedly insisted in his blog that cloud and network-based applications can improve the performance of 5G mobile networks. But last Wednesday, also in his blog, he was more specific and already assured in the headline that "cloud-based networks will unleash the true potential of 5G"
That Bahl sings the excellence of Azure for Operators has nothing in particular, because in the end it is his job, but something very different is that he argues that mobile networks based on 5G NR (New Radio) and with the use of networks Specific cloud-based services (that is, outside the IP protocol of the Internet) will offer a host of new and innovative services, such as ultra-reliable, mission-critical and very low-latency communications, known for short as URLCC.
URLCC services will be offered thanks to 5G NR, which is one of the three great promises of the future standard, when it is fully deployed. According to Bahl, with URLCC a very low latency could be guaranteed, on the order of one to four milliseconds, but (and there is a problem) as "no network can cover all end users and services hosted in the cloud, any operator depends on , ultimately, somehow from the Internet ".
Google has announced a new set of solutions for its Distributed Cloud, which allows telecommunications operators to operate in the core of the 5G network and in the functions of the networks of links close to the users.
The consequence is that, depending on the source and destination, Internet latencies can vary the response time of 5G-based mobile networks by one or more orders of magnitude, thus evaporating the initial low-latency characteristics of its own. of the URLCC 5G. And Bahl adds that, apart from URLCC, general 5G traffic (such as voice calls or high resolution video communications) can demand performance and reliability from mobile networks and the Internet "even higher than those of traditional traffic and companies ".
The key, the specific protocol for Azure
For many years, Microsoft researchers and engineers have been working on developing a hybrid global traffic "orchestrator" that routes data packets into the Azure Wide Network (WAN), which is one of the the keys to what Microsoft offers. This orchestrator takes over classic internet protocols and integrates them into the software Microsoft has built to control 5G traffic, Bahl says. "We place high-performance 5G [data] streams in low-latency, high-bandwidth locations that are off the Internet; the data flows of the network that do not have special requirements are directed towards much cheaper routes ".
In this way, adds the technology manager of Azure for Operators, "we have developed a mechanism that quickly creates a 5G signal over our existing WAN network and that supports several layers of 5G network (Network Slicing) with different wired transport properties, at the same time while avoiding interference with the business network in the underlying cloud. " Ultimately, apparently, a specific signal is created that passes through the Azure network and that "bypasses" the IP protocol.
As if that were not enough, according to Bahl, the verification capacity of this Azure network has been extended to cover complex network topologies, such as WAN and virtual networks and other virtualized network functions (NFV). In addition, the limitations of some particular topologies can be verified at the time of deployment or in a configuration change and Machine Learning techniques are applied to mitigate congestion or improve traffic availability, in addition to reducing the use of the cloud to have lower cost. A diagram of the unified platform is shown in the graphic below.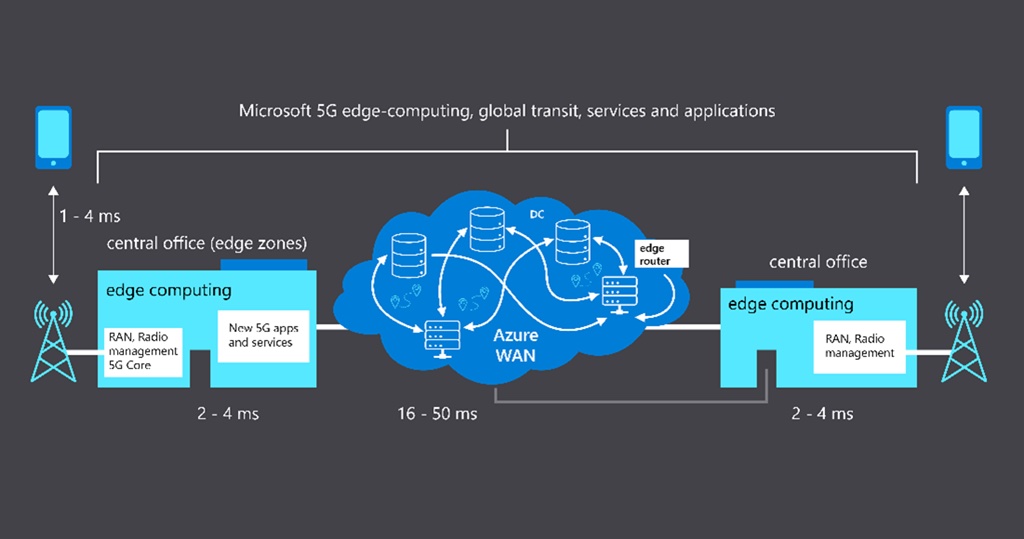 These "special mechanisms that Microsoft has developed to route 5G traffic within a global WAN network" also allow the traffic to be distributed for different use cases with different performance requirements on different paths. For operators, this Microsoft network avoids continually updating their network, a complicated task because they usually work with two or even more providers. More information on this can be found in the Azure for Operators document.
Google also creates a cloud for operators
Last week, Google organized the Next 21 virtual meeting, which served, among others, to introduce a new set of solutions for its Distributed Cloud, which expands its infrastructure in different situations, be it customer data centers, at the Edge or in the cloud. The aim is to offer operators 5G network functions, apart from business applications closer to users. According to Sachin Gupta, director of open infrastructure at Google Cloud, the idea is to allow "customers to focus on applications and business initiatives rather than on managing their infrastructure." "In other words, he adds, leave the complexity to us."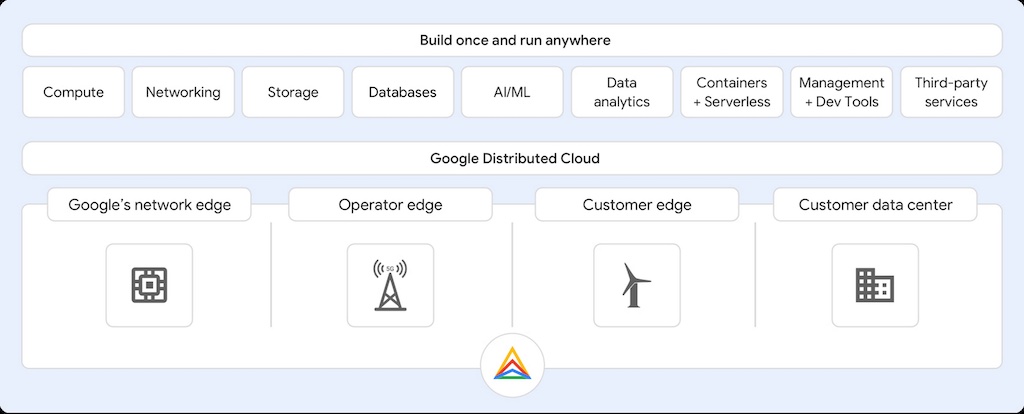 The Distributed Cloud, based on the open Anthos for Telecom platform, enables telecom operators to operate at the core of the 5G network and in the functions of the link network close to users, thus reducing latency, and offering customers high-speed broadband companies, with private 5G networks and localized computing, says Gupta. On his blog, Gupta says that customers can also use third-party services to create their own dedicated environment. At launch, these partners include Cisco, Dell, HPE and NetApp to support the service.
Google also took advantage of Next 21 to announce Distributed Cloud Edge, "a fully managed product that brings together the cloud infrastructure and Google services where data is generated and consumed." The company considers it ideal for local data processing, with low latency edge computing loads, modernizing custom environments and deploying private LTE and 5G solutions in different environments. As strategic partners, Google is counting on Ericsson and Nokia to develop it.
Finally, Google has announced Distributed Cloud Hosted, which supports clients of public administrations and commercial companies that have very strict requirements for privacy, security and place of residence of the data, in line with the desire of the French Government to achieve "clouds of trust "
At the beginning of this month of October, Google announced Thales as a partner of the "clouds of trust" and two of the initial alliances will be with the German T-Systems and the French OVHcloud. T-Systems plans to offer a "sovereign cloud" solution, as it calls them, for German clients in the public and private sectors in the middle of next year, while the objective of the strategic alliance with OVHcloud is "to accelerate the digital transformation of the businesses of French and European organizations in general ". Google wants, thus, to penetrate further into the telecommunications sector and respect, at the same time, the desire of the European Commission and the Member States of the European Union to achieve the greatest possible digital sovereignty in the European space.