China has more than 10% of its mobile users connected to a 5G network, while South Korea exceeded this figure a year ago, which is considered by specialists as the profitability threshold, that is, when operators start to make money and they recover the investment made. The third quarter results released by the three big Chinese mobile operators confirm that 5G is profitable and the monthly billing per user increases month by month.
China Mobile, the world's largest mobile phone operator, had 956 million users at the end of the third quarter, about 10 million more than in the previous quarter. Of this total, 160 million are 5G users and have a 5G-compatible smartphone, compared to the 127 million 5G users that the operator had at the end of June. 5G penetration has therefore gone from 13% to 17% in one quarter.
This means that in the last quarter, China Mobile has managed to capture 33 million "active" 5G users, or an average of 11 million per month. The precision of "active" users, that is, who have a terminal compatible with 5G networks is important, because it is the first time that the main Chinese operator gave this figure in the presentation of the results of the third quarter last Friday.
The three Chinese operators have about 300 million users with 5G smartphones, with a monthly growth of 15 million; This suggests that China will close 2021 with almost 350 million 5G users, almost half from all over the world.
Until then, China Mobile spoke of "customers with a 5G package", a euphemism that meant that they were users who had the possibility to connect to a 5G network because their contract allowed it, but they did not necessarily have a 5G smartphone, which means that they couldn't connect to the new network.
According to China Mobile, at the end of September it had 331 million customers with a "5G package" (with the equivalent term in Chinese, of course) while at the end of June the figure was 259 million. This means that approximately half of its users with a 5G contract have a 5G smartphone and can therefore be considered "real" 5G users.
The other two Chinese mobile operators, China Unicom and China Telecom, continue to account for their users with a 5G package. In the case of China Unicom, at the end of September it had 137 million users with a 5G package, about 25 million more than in the previous quarter. China Telecom, for its part, ensures that it has 146.6 million users with a 5G package, that is, not necessarily with a 5G smartphone.
If it is accepted, as an indication, that China Unicom and China Telecom have a similar proportion of users with a 5G contract and with a 5G smartphone as China Mobile, it follows, by a simple rule of three, that China as a whole currently has almost 300 million 5G users with a 5G smartphone. It is the result of adding the 160 million 5G users that China Mobile claims to have, plus the 71 million from China Unicom and the 66 million from China Telecom, the latter two extrapolated.
The three Chinese operators thus have between 280 and 300 million 5G users with 5G smartphones and the monthly growth is at least 15 million 5G users. It is therefore not risky to say that in China there will be almost 350 million 5G users with a 5G smartphone by the end of this year, since there will be more and more users "with a 5G package" who will have a 5G smartphone and will be 5G users " real ".
5G connections will triple this year
The consulting firm Omdia calculates, according to a note published on October 21, that at the end of the second quarter of 2021 there were more than 400 million 5G subscriptions worldwide, of which 82% were in Asia and, of these, the 87% in China. That is, more than 328 million in Asia and more than 285 million in China.
The lower graph, taken from the same Omdia note, shows the preponderance of Asia and Oceania in the set of global 5G connections and the very low participation of Europe, practically insignificant in relation to Asia. It is also seen that the number of 5G connections has grown very spectacularly in America (read the United States) in the last twelve months, because a year before it was just as insignificant as Europe is now. According to Omdia, Chinese, Korean, Japanese and US carriers accounted for about 93% of the global 5G market at the end of the second quarter.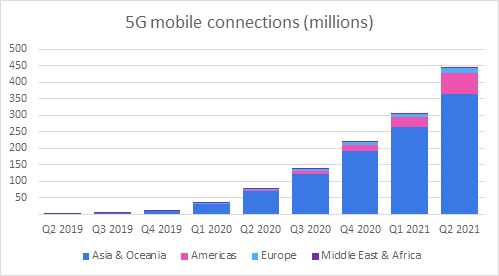 The consulting firm CCs Insight handles figures relatively similar to those of Omdia, within the very important differences that exist in the valuation of 5G subscriptions, because a connection in the medium band of 3.5 GHz or 700 MHz is not the same, as well as the coverage according to which countries and the actual use made of 5G. In any case, CCS Insight estimates that this year 5G connections will triple globally compared to last year, predictably reaching 637 million compared to 210 million. In 2022, they will double, even a little more, to reach 1,340 million 5G connections in the world, as seen in the following graph.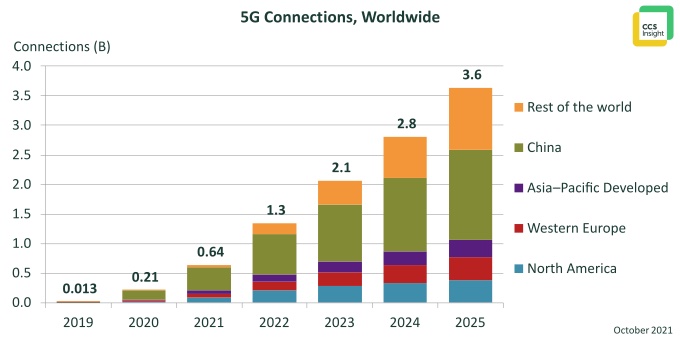 The consultancy, however, is cautious, and warns that the current problems of chip supply and the logistics jam may make these forecasts vary.The advance of 5G subscriptions, however, will not stop whatever happens. Obviously, they will not triple or even double in the next few years, but growth will be very high, reaching 2.1 billion 5G connections by the end of 2023, 2.8 billion by the end of 2024 and 3.6 billion by the end of 2025.
If you look at the top CCS Insight graph, China will lose weight relative to the rest of the world, but it will still be, by far, the country with the most 5G connections, on the order of 1.5 billion at the end of 2025 compared to just 300 million from North America and a similar number from Western Europe. The breakdown of CCS Insight is at least curious, because Japan, South Korea and it is not known what other developed countries in the Pacific and it is placed throughout Eastern Europe and the whole of the Middle East and Southeast Asia, very populated and important , especially India, in the "rest of the world". Still, the weight of all of North America in 5G will not even reach 10% of the global total by the end of 2025.
5G networks are profitable if penetration is high
Omdia calculates that only 14% of the 5G networks that exist in the world have more than 10% penetration, a figure that the researchers of the consultancy consider that from there it is possible to recover the investment made in 5G and be profitable . This 14% of operators with more than 10% penetration represent 21 operators, according to Omdia, but it is an equivocal figure, because countries with many tens of millions of 5G users, such as China or South Korea, together with others with very few million or even less, such as the Gulf countries or Monaco, which have very few inhabitants and high penetration of 5G connections.
Hence, by 5G deployment and total population, the two currently most representative countries are South Korea and China. And in both, the latest results from Chinese and Korean mobile operators make it clear that 5G networks are starting to be profitable and, perhaps more importantly for operators, average billing per user, ARPU, is increasing thanks to 5G.
In the case of South Korea, the profitability of 5G is very clear, thanks to the strong penetration of 5G networks and smartphones, which CCS Insight estimates will touch 30% by the end of this year, although Omdia seems to be reducing it substantially , by simply stating that the 10% bar was exceeded a year ago. In any case, Omdia specifies that at the end of the second quarter, 5G networks had a penetration of 11% in China and, therefore, sufficient to be profitable.
Mobile operators in South Korea and China have already made 5G profitable, based on the results of the last quarter, and it seems that this last quarter they are looking for consolidation before entering the next expansionary phase
The results of the last quarter presented by the three large Chinese operators (controlled by the State and, in the case of China Telecom and China Unicom, with 5G networks that they mostly share with each other) guarantee that profitability has been achieved in 5G. China Mobile's revenue per user, ARPU, has grown 2.6% in the last nine months and now reaches 50 yuan (about 6.7 euros) per month.
China Mobile's turnover in the last nine months has increased by 13%, reaching 648.5 billion yuan (88 billion euros) and profits 237 billion yuan (33 billion euros, 9.5% more. Data traffic rose 39% in the first nine months of the year, to 91 million terabytes, and average traffic per user went from 11.9 GB per month in the second quarter to 12.3 GB per month in the third. .
It is impressive data, but China Mobile has 956 million users. Not content with it, China Mobile assures that it will follow "its business development strategy that integrates access to data, applications and benefits for the client, with a focus on achieving greater size and value, until achieving stable and healthy growth. for all of 2021 ".
The other two Chinese operators also showed good results. In the case of China Unicom, the turnover in the quarter grew by 8.5% and the profit by 19.4% and in the case of China Telecom, the turnover grew by 11% and the net profit by 17%. are not directly comparable due to the pandemic, they show that 5G is following a positive course in penetration and results in China.
The three Korean mobile operators have also had an excellent third quarter, thanks to the higher profits generated by 5G. KT's operating profit will increase 27%, SK Telecom's 9.3% and LG + 10.3%, according to forecasts by financial analysts. 5G highs picked up last August, reaching 700,000 net adds versus relatively lows of 600,000 in June and July. The higher sales of 5G smartphones, especially Sasmung's two folding models, of which a million units have been sold since their launch at the end of August, is another reason for the higher profitability of 5G.
At the end of August, South Korea had 17.8 million 5G subscribers, fifteen times less than China. Its size is therefore not comparable, but it is well above European countries. For now, Korean operators seem to want to make their 5G networks profitable before moving to millimeter waves. They don't seem to be in a rush for the SA5G either, as only KT has started the final testing.
South Korean operators don't seem to be in much of a rush to develop many business applications either. They probably want to consolidate the current networks and focus on consumer applications in this final part of the year so that by 2022 they will have a much greater impact on companies. The rise in third-quarter earnings indicates that the country is already poised for a "second phase" of 5G, with more business applications making 5G meaningful.
As for China, the market is so vast that forecasting is difficult. The latest news that arrives suggests a slowdown in the installation of new base stations, although it is not clear if it is due to the global shortage of components, to the limitations of the United States or that the country is already beginning to be covered enough and now it is a question to go into more detail. What it does seem is that many 5G business applications are being developed.