Telecom operators believe that 5G networks and the increased use of mobile connectivity will contribute to mitigating climate change, according to a report by Mobile UK, the association of British mobile phone operators, which was made public last week, on the eve of the COP26 climate conference that will take place in Glasgow starting next Sunday. MIT's Technology Review magazine also just published an Ericsson-sponsored report that assesses how the use of 5G can help decarbonize the energy, transportation and manufacturing sectors.
Mobile UK's report is entitled "Connectivity and Climate Change: How 5G Will Help Get on the Path to Carbon Neutrality (Net Zero)". The report has been prepared by Policy Points, a consultancy specializing in proposing policies and their expected results, commissioned by Mobile UK, an association of the four UK mobile operators (EE, O2, Three and Vodafone).
In recent months, similar studies have been published on the importance of mobile phone networks to mitigate the effects of climate change as much as possible and, especially, the important commitments made by the main mobile phone operators to drastically reduce the consumption of energy, and especially electricity, in the operation of the networks, as explained in a previous analysis of ON5G
Several recent studies highlight that 5G can contribute to the decarbonisation and greater energy efficiency of key industrial sectors, such as Ericsson or the four British mobile operators
The Mobile Net Zero report and the Going Green project of the GSMA, the association that brings together the interests of the majority of mobile operators, reinforces the commitment of global mobile operators to reach the carbon neutrality of the industry by 2050 at the latest, and some even speak of achieving it by 2030, like last week BT ​​(before it spoke of 2045).
Last Friday, Ericsson released a report that it sponsored and published in MIT's Technology Review. This report, entitled "Decarbonizing industries with connectivity and 5G" assesses how the use of connectivity, including 5G and other mobile digital technologies, can contribute to decarbonizing the power generation and electricity, transportation and product manufacturing industries. industrial.
Among the findings of the Ericsson-sponsored report, based on multiple interviews with experts from around the world last July and August, are that "5G is key to achieving efficiency improvements and achieving new sustainable operating processes," as well as that "Data from mobile networks can strengthen analytical capabilities" and that "some of the most important emitting sectors [of carbon dioxide] are interconnected."
In addition to significant improvements in operational performance, 5G and other digital mobile technologies will enable organizations to achieve significant gains in environmental sustainability by increasing the energy efficiency of their processes, better monitoring them, or reducing the consumption of raw materials and costs of the materials with more advanced management practices.
The data generated by IoT devices, autonomous vehicles and the multiple devices used by industries will offer decision makers greater visibility into their operations and a broader view of activities that create greenhouse gases. With this data, powerful analysis platforms can be generated that help make decisions that exponentially decarbonise the current processes used today.
Many organizations, the report published by MIT also highlights, are interconnected through interdependent operational models and business ecosystems that already share data and decisions. 5G networks can make it easier for these interconnected systems to grow larger and share vast amounts of data across product supply chains, logistics and energy networks, helping to radically lower polluting emissions and achieve real system change. productive world, predicts the report.
"With connected technologies, the public and private sectors can achieve all kinds of practices and solutions to combat climate change; more efficient production and logistics systems, renewable energy systems and transport that use less carbon are just some of these known uses ", highlights Erik Ekudden, vice president of Ericsson and chief technology officer of the Swedish company.
With the challenges posed by current global energy consumption, the effects of CO2 pollution and the inefficient use of resources, "we need to quickly use these transformative technologies and we think that 5G is one of the most powerful and scalable tools we have available to do it ", says the CTO of Ericsson.
The report published by MIT cites, at length, the Exponential Roadmap, a lengthy report detailing 36 solutions to halve emissions by 2030, apart from the alarming latest IPCC report, among many other prestigious references.
Towards Net Zero with 5G
Without rapid deployment and adoption of next-generation technologies, the Mobile UK report argues, the government's ambitious goals of decarbonizing the UK will never be met anytime soon. Either way, he adds, 5G networks can serve as an important support for key industries, such as manufacturing, agriculture, transportation or energy, to reduce their environmental footprints.
The report that groups together the four major mobile phone operators in the United Kingdom fully coincides with the one sponsored by Ericsson on the prominent role that 5G can (and should) play in, at least, alleviating the serious environmental ills of the planet. And it provides a wealth of data that supports the British report's thesis of the potential benefits of 5G.
In the energy sector, for example, 5G connectivity could save around 250 million tons of CO2 emissions globally in 2030 with the increased use of wind and solar energy. Elsewhere in the report, it is estimated that use cases for 5G networks could reduce carbon emissions in the energy industry by almost 1% between 2020 and 2030, accounting for half of all Canadian emissions in 2018.
The GSMA, which brings together the majority of mobile operators, has pledged that its partners will achieve carbon neutrality in their activity by 2050, and some even by 2035 or 2030
In the manufacturing sector, adds the Mobile UK report, 5G-based technologies could help reduce total carbon emissions from all G7 manufacturing sectors by 1% between 2020 and 2035. This percentage represents about 182 million tonnes CO2 equivalents, equivalent to approximately 75% of the annual emissions of France (or Spain, which are similar).
Gareth Elliot, responsible for the Mobile UK report, believes that he makes very clear "the crucial role that 5G, and mobile connectivity in general, can play in mitigating climate change with our efforts." What's important, he adds, is that governments recognize that the rapid deployment of 5G and mobile networks can put the industry in a better position to achieve environmental preservation goals earlier.
Among the recommendations of the British mobile operators report is that the installation permits for mobile networks be reformed, in such a way that antennas and mobile infrastructure can be deployed more quickly and effectively. Another point on which British operators influence through the organization that represents them is that the development of new mobile infrastructures be subsidized, especially in areas of difficult access. And, also, that the British Government continue to promote the deployment of fiber optics, which is essential to connect the link networks to the transport and trunk networks.
The graph below from the Mobile UK report shows some of the greenhouse gas emissions savings that 5G can help facilitate.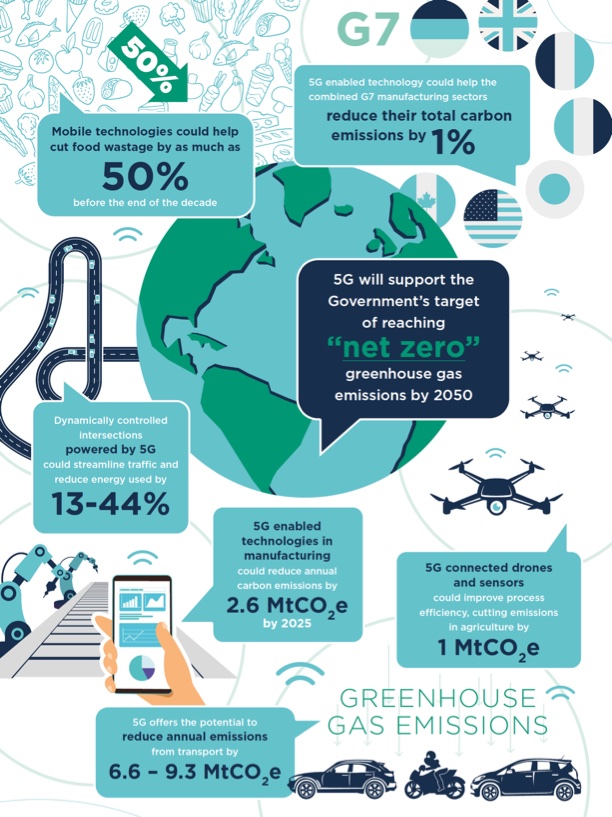 The potential reduction of CO2 emissions in four key sectors (energy, transport, manufacturing and agriculture) are set out in the following graph from the same report. In the energy sector, it is calculated, emissions can be reduced by 1.7 billion tons of CO2 equivalent between 2020 and 2030. In transport, from 6.6 to 9.3 million tons of CO2 annually; In the manufacturing sector, the combined CO2 reduction of the G7 countries may be 182 million tons in 2035 and in the agricultural sector of one million tons in 2035.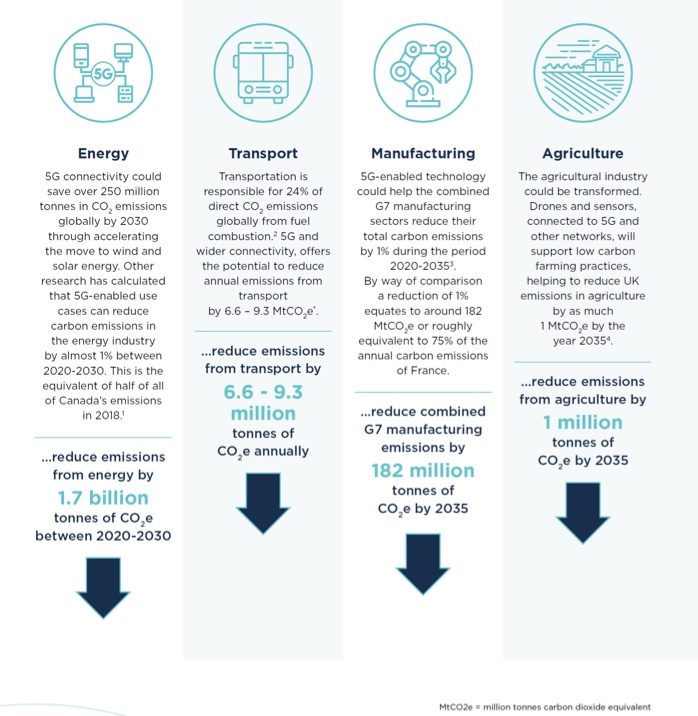 It is clear that the use of technology in general, and of 5G mobile technology in particular, can contribute to making industrial processes more efficient and thus mitigating the devastating effects of climate change as a consequence of human activity, whether in the transportation, energy consumption, food manufacturing or production, all of which are essential and cannot be eliminated, although they are more efficient.
Less polluting 5G networks
The GSMA, the global association that brings together the vast majority of mobile phone operators (we speak of 80% of the total) does not affect so much, in its latest reports related to the preservation of the environment, on the advantages of using 5G but on its efforts to make telecommunications networks more efficient in the consumption of electricity and, above all, the link networks, the last section that puts the signals from the mobile terminal in contact with the nearby antenna through the air.
One of the promises of 5G is that it consumes much less electricity per transmitted data than 4G and, of course, 3G. This is true, although it must be taken into account that more and more data is transmitted and with each new mobile generation, greater transmission is encouraged, because it is more economical for the transmitter. There is no choice, if you want to save energy consumption in mobile transmissions, than to be drastically more efficient throughout the mobile telephony chain and especially in the final part, in the link network, as indicated, so that global energy consumption in mobile networks is lower despite the increase in transmitted data.
In recent months, a large part of mobile operators have committed to achieving carbon neutrality before 2040 and some by 2035. To do this, they not only have to use more energy-efficient mobile technologies, such as 5G, but also review all the equipment and components used, mainly in antennas and base stations, so that electricity consumption is much lower, starting by reducing its power, as equipment manufacturers are already doing.
Operators have another very powerful alternative at their fingertips to help decarbonize the planet, apart from reducing energy consumption: using renewable energy. Along with the most efficient processes, the use of renewable energies is a measure that is within the reach of any company and individual user. Technological evolution should also allow greater access to renewable energy and a more tangible benefit at all levels.
The vast majority of mobile phone operators have committed to achieving neutrality in their processes, Net Zero, before 2050 and, in many cases, before 2040 or even 2035 or 2030. In these weeks prior to At the Glasgow summit, which will begin next Sunday in the British city, many operators have reviewed their actions and have advanced their commitments to be energy neutral.
One of the last to do so is the dominant British operator BT, which a month ago pledged to do so by 2045 and has now advanced it by fifteen years. On the other hand, BT recognized a few days ago that it saw it very difficult to do without Huawei equipment in its transport networks throughout this decade and part of the next, as required by its Government. This, however, is a completely different issue, which in principle is not related to environmental requirements, unless Chinese manufacturers demonstrate that their equipment is more efficient and uses much less primary energy and materials in its manufacture than manufacturers. Westerners or the rest of Asians.